FAQ's
Q – How long will it take my child to learn to swim?
A – We all learn at a different speed, the most important thing is not to push your child and that your child enjoys the learning process, it is also important to remember that some children will have had different experiences in the water, some will be more confident these children will usually progress quicker than the less confident children, the key is not to give up, until they can swim.
Q – How long should I bring my child swimming?
A – Swimming is not only a skill for life, it is also one of the greatest forms of exercise. Regular exercise is essential for your child's development. At splish splash Swim school we teach the Swim England stages 1 to 10, distance awards and personnel survival Skills for boys and girls up to early teens. Swimming is an ongoing process depending on what level your child wants to achieve, once they can swim.
Q – How long are the lessons?
A – 30 minutes, which we find is a good amount of time, as children find it hard to concentrate past this time.
Q – What does my child need to bring?
A – For girls a one piece costume, boys trunks rather than baggy shorts, a pair of goggles, a swimming hat is compulsory, arm bands optional for parent and toddler or very nervous swimmers and a towel.
Q – How long is a term?
A- The term is the same as a school term 12 to 14 weeks, we take a one week break at half term.
Q – What happens if my child misses a lesson, due to absence or lateness?
A – Unfortunately we do not give refunds for any missed lessons, how ever in Unforeseen circumstances contact Splish Splash swim School.
Q – How many children are in a group?
A – Non swimmer to Beginner groups up to six children with one teacher in the water. Advanced Beginner to Advanced Improver groups up to eight children and the teacher will teach from the pool side.
Learn to swim the fun way…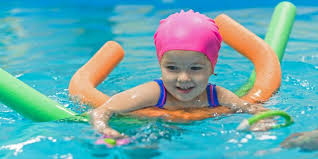 Lesson Venue:
St Joseph's College
Beulah Hill
Upper Norwood
London SE19 3HL
Pool Temperature:
28° to 29°
Width:
12 meters by 25 meters
Depth:
3′ 6" (1.2 meters) to 9′ 6" (2.5 meters)
Days and Times:
Wed. 4:00 – 6:30pm
Sat. 11:15 – 1:15pm
Sun. 11:15 – 1.15pm
30 minute sessions, term time only.
Prices:
£12.00 per lesson
(all lessons paid in advance termly).
£20.00 Registration fee
(this is one off fee and is charged per family).